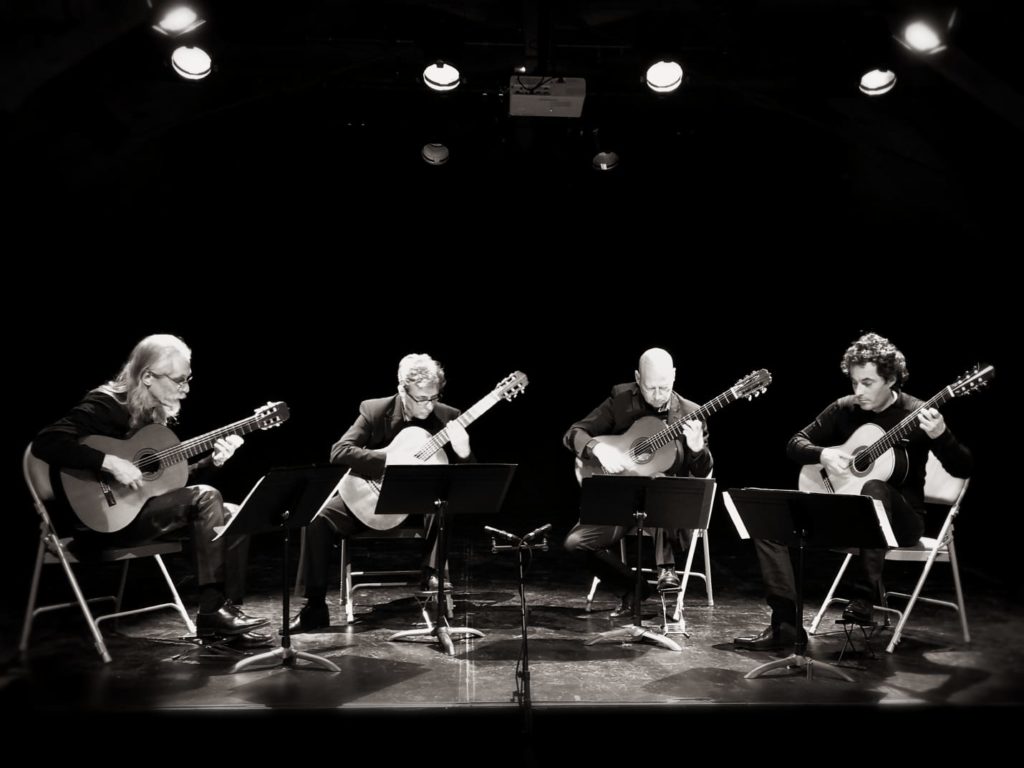 Virtuose and intimate, the aighetta quartet mixes shimmering tones … poetry comes out of the mutual listening, the remarkable sensitivty of this harmonious whole.
La Liberté de Fribourg
Aula de l'Université / Fribourg /March 2009
… during their concert in the Carl-Orff-Saal in Gasteig, they sparked enthusiasm by defending the virtuoso school ardently;… they have a outstanding creativity.
G. Summer, Süddeutsche Zeitung
Gasteig (Carl-Orff-Saal) / Münich / Novembre 1991
The most amazing with them is their tremendous coordinating ability, the perfect synchronization of the ensemble makes them a huge guitar activated by four hands in the glory of the instrument and the music.
C. Calmell, La Vanguardia
Palau de la Musica Catalana / Barcelone / Juin 1991
… an orchestral dimension.
F. Tenneson, Les Cahiers de la Guitare
Semaine Internationale de la Guitare de Paris / Octobre 1990
What Darius Milhaud entrusted to a great orchestra in his ballet "Le boeuf sur le toit", A‹ghetta Quartet restores on a twenty-four string guitar, without losing anything in the range of the colours… The ease, the subtle harmony in the collective play, testify to the fact that the members of the A‹ghetta quartet, come from the Spanish classical school founded by the master AndrŠs Segovia
krie, Salzburger Nachrichten
Salzbourg / Septembre 1990
Each member of the ensemble is an exceptional soloist endowed with a sense of chamber music and with an intimate understanding of interpretation. Together they form a heart and a soul, and therefore master the more difficult pieces brilliantly.
fz, Oö Nachrichten
Serenaden 90 (Brucknerhaus) / Linz / Août 1990
In spite of different temperaments, the four Monegasques, mingle into one play, sparkling with ideas.
G. Widmaier, Tageszeitung (Feuilleton)
Gasteig / Münich / Avril 1989
L'Aïghetta Quartett: Four virtuosi of very great worth, heirs to the school of Segovia, four individual personalities endowed with a fabulous collective spirit, who declared war on the guitar's natural frontiers.
K. Bennert, Süddeutsche Zeitung (Feuilleton)
Gasteig / Münich / Avril 1989
Aïghetta Quartet: The twenty-four string guitar.
A. Burgess, Classical Guitar
Mai/Juin 1988
With Aïghetta Quartet the music breathes, it is alive and remains precise, everything is easy, the guitar even with four players sounds perfect.
E. Guyardeau, Ouest-France
Festival des Sept Chapelles / Bretagne / Aout 1987
… a packed concert hall overbrimming with enthusiasm with their virtuosity and their phrasing which seemed to be so easy …
Münchner Merkur / Avril 1987
In Monaco Aïghetta means Little Spring, yesterday concert remainded us the richflow of a river rather than to the promises of a little spring.
Cs. L. Nagy
Festival d'Esztergom / Hongrie / Aout 1985
It is a group that is well worth hearing.
John W. Duarte, Guitar
Wigmore Hall / Londres / Septembre 1984
Unity is strength it is also delicacy! They have proved it with the Concierto Andaluz by Rodrigo.
Y. Hucher, Nice-Matin
Salle Garnier / Monte Carlo / Juin 1982